Jesse James Birthplace Field Trip
The tour consists of a twenty-minute film, three galleries of artifacts, and a guided tour through the cabin where Jesse was born. After students have completed the museum galleries they will follow the paved trail to the cabin and walk alongside the creek where, as young boys, Frank and Jesse spent much of their time playing. The guided tour through the restored cabin will take students back in time to learn the history and see how the legend began. In the yard of the family home is Jesse's original burial site, the place where his mother once sold souvenir rocks from his grave for twenty-five cents. Dependent upon the number of students attending, you will need to allow 1½ hours to complete the tour. The rooms in the cabin are small and can only hold 15-18/tour. The theater accommodates 40-50 students. Upon completion of the tour students may want to browse the museum's gift shop. Picnic tables are available on site.
Click to download:
Flat Jesse Coloring Picture (PDF)

Adult group rate $7.50
Child group rate $4.00
Contact 816-736-8500 to schedule your school field trip
Bus On Us Program Flyer (PDF Flyer)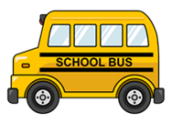 Other Clay County Educational Opportunities
Field trips/ tours are available for each of our historic sites, and they can be personalized to meet your needs.
Mt. Gilead School
We offer educational one-room schoolhouse programs designed for all ages. This is a four-hour program, but it can be shortened if necessary. The maximum number of students is 30.